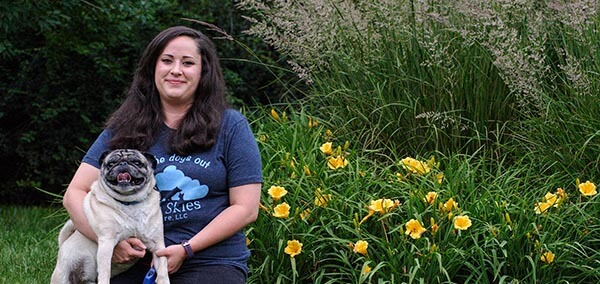 Blue Skies Pet Care, LLC is a professional pet care provider that has been in business since 2010, providing exceptional pet care to the Newton, KS area. We seek to hire dependable, honest and hard-working animal lovers to work as dog walkers, pet sitters, and poop scoopers.
This job is perfect if you are able to work independently and are looking for supplemental income outside of an office. If you are able to work when clients need you, you may be a great fit.
All of our team members are protected employees (W2), not independent contractors (1099).
Please feel free to submit an application, even if you have availability that does not match the shifts listed below! We will refer back to your application and the availability you list for up to 12 months if we other have new openings.
We do prioritize applications with the best balance of life/pet experience and availability.
Currently Hiring:
All shift availability. We require applicants to be available for a minimum of 2 shifts per week, but priority will be given to those with more availability for our busy season.
We are currently in our slow season. This is a perfect time to train, but is definitely PT/supplemental income at this time.
We tend to be more fully booked during Spring Break, the summer months (May-September), and around holidays.
We welcome ALL applicants, but we have found that the team members happiest with pet sitting are seeking supplemental income ($150-500/week depending on time of year and your availability). There is the opportunity for more pet care visits when we are busiest, so pet caregivers can expect additional income over holidays and the Summer months.
As an example, one our team member happiest with second shifts and weekends was a preschool director, as we are busiest during the school's Summer and holidays. Evenings and weekends are busiest during the Summer and holidays.
Please feel free to submit an application for all availability you may have. Even if we don't have availability in the schedule now, we can hold onto it for reference if those times become available.
To minimize your driving time, eligible candidates should live in the following zip codes: 67114, 67117, 67062
EMPLOYEE BENEFITS:
Paid for loving pets (duh!)
Per-visit pay
Mileage reimbursements
100% tips for assigned visits
Referral bonuses for new clients
Paid on-the-job training
Paid volunteer opportunities
Worker's Compensation insurance
Taxes withheld from paychecks: we handle the payment of your employment taxes to the government (no need to budget for that end-of-the-year tax payment!)
Bi-weekly pay through direct deposit
Bonding and general liability insurance coverage
Discounted pet care for your own pets
Flexible schedule
RESPONSIBILITIES
Pet Sitting: Visit pets to care for their needs while families are out of town.
Dog Walking: Visit pets 1-2 times per day to walk dogs while families are at work, school, etc.
Poop Scooping: Remove dog waste from client properties.
It is an active position, requiring zeal - even when it's rainy or hot or snowy. You must also be 100% reliable - pets are relying on you for love, food, medication, potty breaks, etc. Each team member is expected to assist with all types of pets and the services we offer.
REQUIREMENTS
Must be 18 years or older
Must have access to an insured and reliable vehicle
Must have a smart phone with data plan
Must love both dogs and cats
Must be punctual, responsible, and organized
Must be flexible and have good time management skills
Must be able to provide two references
Must be willing to make a commitment to work at least 12 months for the company
Must be able to pass a criminal background check