Why Hire a Pet Sitter? - Why Pet Sitting?
Whether it's a day, three days, or three months, give yourself the peace of mind while you are away that your pet is safe, comfortable, and loved. During each visit, your sitter observes the physical and emotional well-being of your pet, puts your pet at ease, and checks over your home. Each visit is customized to the needs of your pet, whether that means sitting down with a ball and some cat nip or the same benefits as dog walking services.
One-on-One Attention
Walk, Playtime
Basic/Visible Health Check
Light Grooming
Medication
Food, Fresh Water
Litter Maintenance
Retrieve Mail Packages
Trash Bins to Curb
Water Plants
Rotate Lights, Blinds, TV
Feed Fish
Pet Sitting Rates:
Rates are based on number of visits. We do not charge per pet.
Express Visit (10-15 min)
$12/visit
Standard Visit (20-30 min)
$17/visit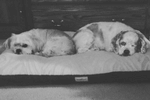 "Ashley took great care of our pets while we were out of town. They are 'seniors' and one has limited vision so boarding has become very stressful for them. They were much happier staying at home where everything is familiar. Thank you, Ashley!!"
- Connie A, Newton
Additional Pet Sitter Info:
Need someone to stay the night? Check out our "Overnight Pet Sitting" page.
Minimum one visit required per 24 hours for any type of pet to ensure quality of pet care. Most of our clients request 1-3 visits/day.
Longer visits available.