Dog Boarding at The Bungalow
While most of our furry clients enjoy in-home pet sitting, we understand that some pups need to get out of their own house. For those special dogs, we have The Bungalow. It is an exclusive and personal boarding vacation with three or fewer dogs at any given time in a one-bedroom home nestled right here in Newton. Our guests can enjoy a restful retreat with all the comforts of home. TV? Check. Couch? Check. Belly rubs, love, and playtime? Check, check, check!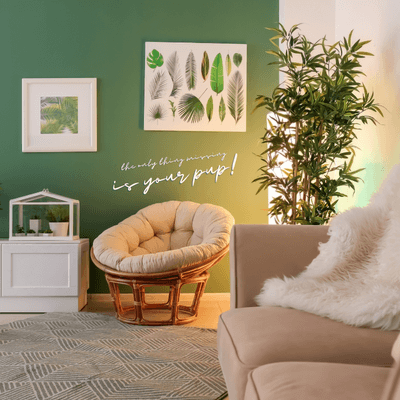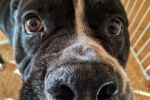 "I would give more than 5 stars if I could. Not only is the care excellent, but business is great too-- it's so easy to schedule, pay, leave notes, etc. Both times we've used Blue Skies, it's been really last minute due to a death in the family and we were able to schedule, add on days... I could say so many great things about our experience, but I really just want to say THANK YOU!! Such a great business to have in Newton... "
- Adriana L, Newton
One-on-One Attention
Daily Reports
Walks, Playtime
Medication
Feeding
Plenty of Rest Periods
4,500 Sq Ft Fenced Play Yard
Limited occupancy. Our 750 sq ft Boarding Bungalow is limited to three dog guests at a time.
Dog Boarding Rates:
| | |
| --- | --- |
| Ready to reserve your pup's ultimate BnB stay at The Bungalow? Reach out to us to us online or by giving us a call to learn more! | |
| | |
| | |
FREE pickup/delivery available for pets to and from your home within our service area when staying 4+ nights!
Do you have multiple dogs? Cats? Prefer your pets stay in your own home? Our in-home pet sitting rates include any number of pets, from dogs and cats to goats and guinea pigs! We don't charge per pet for pet sitting and starts at $15.50/day. Learn more about pet sitting.
Let's Talk!
If this is your pet's first time with us, please take a moment to schedule your complimentary meet and greet. It's important to us that we answer any questions you have and setup the perfect service for your pets!
Frequently Asked Questions (FAQ)
Q: Do you live at the Bungalow?
A: Yes and no. The Bungalow is the Blue Skies Pet Care HQ and home base. It is a fully furnished home where we spend time with our four-legged guests. Think of it as a BnB for dogs with on-site concierge staff!
Q: What safety precautions do you have?
A: Dogs from different households are allowed to play under supervision only. If we have dogs from multiple households, they are given different areas of the house when left alone. We have smoke alarms that are wifi-enabled to alert us and 911 remotely in case of any problems, as well as cameras both inside and outside of the Bungalow.
Q: Do you offer pickup/delivery?
A: Yes! We will come get your doggo for their vacation! For clients within our service area staying 4+ nights, it is complimentary, too!
Q: When can I drop off and pick my dog up from boarding?
A: Please pre-schedule a time to check your dog in and out of The Bungalow during regular business hours if you do not opt for pickup and delivery from your home.
Q: Are there fees on final days?
A: Pups leaving The Bungalow by 11:00am are half-day fees. Pups leaving The Bungalow after 11:00am are full day fees.
Q: Do you offer multi-pet discounts?
A: Yes! A second or even third pup from the same home can join their sibling for a reduced rate.
Q: Do you offer something more economical?
A: Yes! We believe our pet sitting services is not only the Gold Standard in pet care, but we do not charge per pet for those services. Check that out here:  pet sitting services
Q: Do you offer baths?
A: Yes, by request. We do not offer baths for non-guests.
Q: Do you offer full grooms?
A: Not at this time, no.
Q: Do you have vaccine requirements?
A: Yes. All dogs must be up to date on vaccines.
Q: Do you have flea treatment/preventative requirements?
A: YES. All dogs must be on current flea treatment/preventative.
Q: Are there behavior requirements?
A: Our couch is their couch, so Bungalow guests must be potty trained (with or without the aid of a crate), must not be aggressive. Because we play and cuddle with our guests on and off throughout the day and then stay overnight with them, they must not suffer from destructive separation anxiety when left alone for parts of the day.
Q: What extras can we add?
A: We have a excellent standard of care included for all guests: playtime inside and out, walks, one-on-one cuddle time, etc are all included. Not all guests (or their pet parents) want baths or stuffed Kongs, so those are add-ons available by request.
Q: What do you feed while my dog is there?
A: We strongly encourage families to bring their normal food to avoid digestive distress - it's the most common problem for boarding dogs anywhere! Please bring your dog's food in an airtight container, clearly marked with your name and their feeding instructions. Bring no more than a 25# container OR just enough for your stay (plus a few days just in case) for long stays. We don't need their 40# bag if they're just staying the weekend. 🙂 Dogs that don't bring food are provided with Taste of the Wild.
Q: Any holiday fees?
$5 per-day holiday fee for boarding on New Years Day, Memorial Day, 4th of July, Labor Day, Thanksgiving, the day after Thanksgiving, Christmas Eve, Christmas, and New Years Eve.