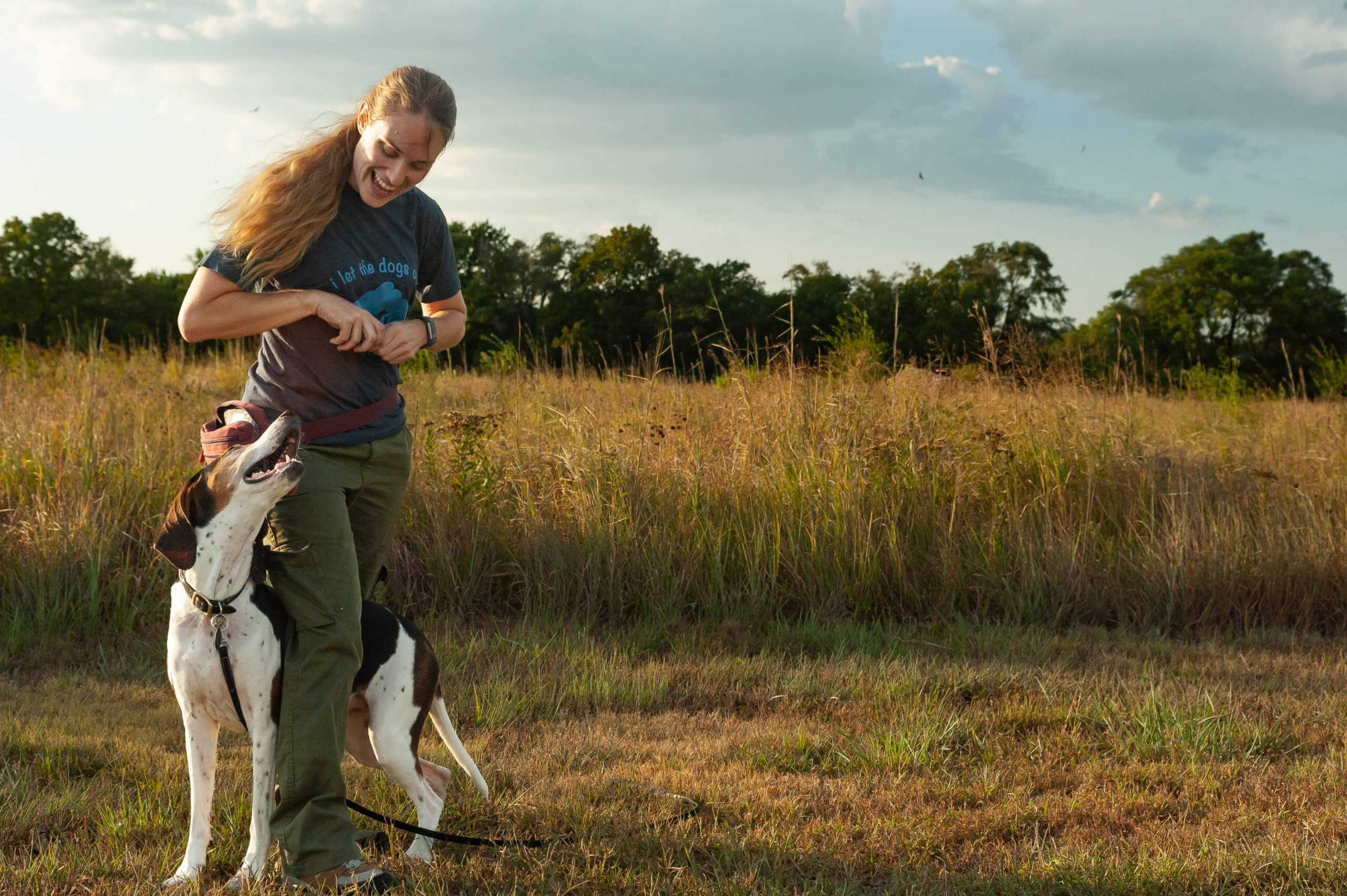 Slide 1
Serving Newton and Wichita Area
Private and Homeschool Dog Training
Receive one-on-one, private coaching from a dog trainer or let us train your dog for you.
Ready to enjoy a dog that responds when you ask them to walk by you, comes when called, and generally listens better? Experiencing behavioral issues, such as leash reactivity? One of our training programs might be for you! We offer multiple learning options for a totally personalized experience for you and your dog.
Apply below so we can find a solution that is best for you and your dog!
Training Options
Available to Book:
Puppy Primary School
Basic Manners (and Beyond)
Behavior Solutions
Therapy Dog Prep School
Cooperative Care / Husbandry
Trick Dog Lessons
Consultations
Coming Soon:
Hybrid Online Learning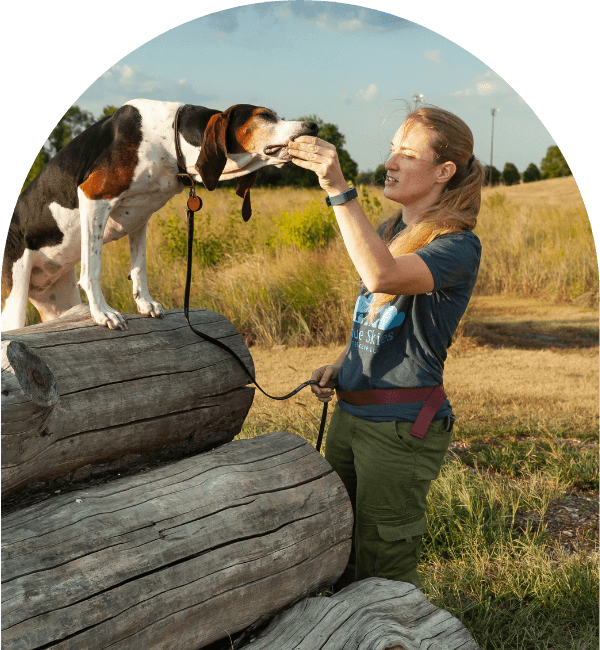 "I am so pleased with the service we got for our St. Bernard Puppy. At 6 mo old, he was bigger than he could control. They worked wonders with him and have made it a joy to have him around. He is still a lot of puppy but has learned to be 'careful' with his weight and size! I highly recommend!! They did great and Otto had a great time with her! Thanks again!" - Patricia M.
What do we work on?
We offer training for all ages, from puppyhood into adulthood. The first six months of a dog's life is critically important for socialization, but YES, an older dog CAN learn new tricks! Don't see what you're looking for below? Reach out to us and we will see if we can help guide you to a happier life with your dog!
We work on the following areas:
Consultations. Have just one problem area you want to talk to a pro about? From tips for first time puppy families to teaching your dog to load up in the car, we've got you covered.
Puppy Primary School. Puppyhood is a critical time for dogs. Yes, old dogs can learn new tricks, but early socialization and learning are a very special time for puppies that can affect the rest of their lives! Let us help guide you through puppy highs and lows while also instilling some of those basic manners to help you live in harmony. The sooner, the better!
Basic Manners and Beyond. Whether you're getting off on the right paw, refreshing, or wanting to go advanced, we can help! Working on goals such as polite walking, sit, stay, down, come, leave it, name recognition. We guide dogs starting by teaching them their first "sit" cue for beginners all the way through CGC (Canine Good Citizen) testing for advanced students.
Behavior Modification and Management. Troubleshooting concerns like fear, resource guarding, leash reactivity, jumping, door darting, counter surfing, potty training, and more!
Therapy Dog Prep School. Considering therapy dog work with a new or existing dog? Dogs we prepare to certify for therapy dog work are personal pets that accompany their owners to facilities such as nursing homes, hospitals, libraries, and schools. Your dog doesn't need to have a task or know tricks. They must be able to quietly and calmly bring respite to the humans they visit. Sometimes those big brown eyes are all a person needs for magic to happen. Our course will prepare you and your dog for animal-assisted therapy. Our intention is to give dogs and their handlers the skills and tools they need to prepare for certification tests.
Cooperative Care, Husbandry. Exams, medications, nail trims, and more are stressful for many dogs and, by extension, their humans. Teach your to accept and be an active participant in grooming and veterinary care!
Trick Dog Lessons. Want to do a TikTok-worthy dog trick, impress your Facebook friends and BBQ guests, or just have a REALLY fun time with your dog? This one's for you!
With our one-on-one focus, we can work more heavily on some areas than others. Some dogs need more work on leash manners while others need more help with basic manners. We're here to make your lives more harmonious!
Behavior Consultation
Are you experiencing a problem, but aren't looking for a class? Maybe just experiencing ONE big problem or a couple smaller ones?
We come to you, discuss what's going on with your dog in regards to training, make a plan, follow-up with a detailed protocol, and keep in touch once a week via email for the next month if you need us. We often begin training at this session and walk you through exactly what we do to work on it! We may also suggest a consultation to kick-off your training curriculum.
1:1 Private Coaching
Private sessions allow you and your dog to work at your own pace in your home, whether you're looking to start your puppy off right, family basic manners, or help changing behaviors.
Not only are these sessions scheduled around YOUR busy schedule, dogs involved in private sessions typically see faster progress than group classes. We'll meet once a week for five weeks to coach you on how to work with your dog and set you and your dog up for success.
Our training methods are science-backed AND beginner-friendly! We want this experience to be positive for humans and dogs involved! We'll give you tips for how to practice good behaviors each week between our sessions to see change in your dog.
Homeschool or "Day Training"

Outcome driven? Busy life? With homeschooling, we spend time training your dog directly in the comfort of your own home for four or seven weeks. We come to your dog four times each week, for a total of 16 or 28 sessions. You'll receive a report about what your dog learned during each session. Every few sessions, we'll have you join so you can ask questions in person, work with your dog with guidance, and see how quickly YOU can make a difference with your pup.