[ubermenu config_id="service-options" menu="3"]
Why Overnight Pet Care?
A large portion of most pets' routines is having someone there when they wake up and when they go to sleep at night. Not only does this provide the comfort of home life, but the security of human companionship through the night. This allows a better chance of your sitter being present in the case of an emergency, either for your pet or for your home.
Most of our clients only request daytime visits. Don't need someone to stay the night? Check out our "Vacation Pet Sitting" page.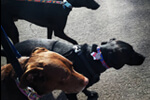 "What a relief to have someone take care of your pets while you are away. Our home and dogs were well taken care of while we were away. She will get your mail and packages as well, which is a huge benefit! Our dogs were so happy to be able to stay home and have their friend"
- Tamara S, Newton
Overnight Pet Care Includes:
Approx. 9 Hour Overnight Visit
Two walks, AM & PM
Basic/Visible Health Check
Light Grooming
Drug Administration (oral, topical)
Food, Fresh Water
Waste Removal
Retrieve Mail Packages
Take Out Garbage
Water Plants
Rotate Lights, Blinds, TV
Feed Fish
Overnight Pet Care Rates:
Includes ANY number of pets! +$0/pet
$65/night
Middle of the night cuddles and potty breaks! $20 puppy (0-6 months) fee includes any number of puppies.