[ubermenu config_id="service-options" menu="3"]
Pet Concierge Services
Pet Transport & Supply Delivery
Pet Transportation
$20 - includes pickup and dropoff
Need us to wait instead leaving the pet? $20 per hour will be prorated in 20 minute increments.
Transportation for your pet, including pick-up and drop-off. Perfect for getting your pet to their grooming, non-emergency vet, or other appointments.
Pet Supply Delivery
$15 - includes pickup from store and drop-off to your porch!
Items may be prepaid with the store or purchased by Blue Skies Pet Care and billed in addition to the delivery fee.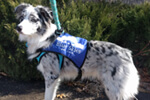 This service is typically exclusively offered to our existing pet care clients. However, in light of the current stresses on our community, we are extending that to the wider community and have lowered our hourly rates.