[ubermenu config_id="service-options" menu="3"]
Puppy Care & Potty Breaks
Sometimes we are gone a few hours at a time, but know our new fuzzy family member needs a little loving. Let us help! Adding visits to your pet's day can help with potty training, leash manners, socialization, and maintaining a feeding schedule. Visits include as much love for your little one as possible.
When might you need a quick check in?
• New puppy needing frequent potty breaks while you're at work
• Extreme outdoor temperatures. Pets need let inside during the worst part of the day.
• Unexpectedly stuck at work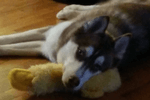 "Love Ashley! She and my girl are great friends! She makes it easy and convenient to have a dog and a life. Can't say enough about her. "
- Kylie O, Newton
Puppy Visit Rate:
Rate includes unlimited pets.
Potty Break (10-15 min) $13
Is your pet ready for longer visits to exercise more? Contact us about dog walking services!