Slide 1
Harvey County's Most Trusted Poop Scooper Service
Dog poop removal services for as low as $10
Pet Waste Management in Newton, KS
We make it easy. Schedule clean-ups and be rest assured that your satisfaction is guaranteed. You will receive an alert when each service is completed, so you'll know it's safe to head outside!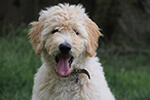 "...the best! Very responsive, friendly and so good with our dog! We highly recommend..."
- Olivia R., Hesston
Blue Skies Pet Care is here for all Newton dog owners!
Long gone are the days of dodging dog bombs!
Our friendly, insured professional pet care providers arrive uniformed and in marked vehicles. We carefully inspect and clean your yard and send an alert when the poop scooping service is complete.
Locally owned and operated, Blue Skies Pet Care is the #1 pet care and poop scooping service for Harvey County. We have served hundreds of families and over a thousand pets. Our poop scooping service makes your life easier and allows you to focus on things you enjoy.
Pet Waste Removal Pricing
We offer weekly, twice weekly, monthly, twice monthly, or one-time cleanings.
Rates are based on the number of dogs and start as low as $12 - no contract!