New Client Portal for Pet Sitting and Dog Walking Clients
Blue Skies Pet Care, LLC is thrilled to announce our new Client Portal. Clients are always welcome to contact us by phone and e-mail, but this is an additional opportunity to gather information in one place.
As a Blue Skies Pet Care client, you can review schedules that are directly linked to your pet sitter's schedule (if it's in your online schedule- its in ours!), request new services any time day or night, change care information for your home and pets, receive updates and pictures of pets from your sitter, contact us, and much more.
We are most excited that your Client Portal is simple and easy to use. When selecting something for our clients to use, we didn't want something unnecessarily complex or confusing. Our Client Portal is well designed to be as effortless as possible.
As seen in the screenshot below, there are five main tabs.
Conversation: Receive updates from your dog walker or pet sitter, including pictures of pets. You can also message us.
Pets: Add pets and change their care information. We'll be alerted of any changes so we know right away.
Schedule: Review your pet's care schedule and make any changes. A schedule confirmation will be emailed for all services so that you know your pets routine will resume as normal from the time you leave to the time you arrive back home.
My Info: Update contact information and home care information.
Invoices: Review any invoices for services once they are scheduled.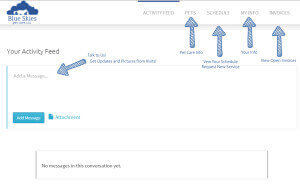 Latest posts by Ashley Klein
(see all)