Blue Skies Pet Care is built on culture of dependability. By retaining a key with Blue Skies Pet Care for our At-the-Ready Key Program, your pet caregiver will be able to begin pet care at a moment's notice, even if your electricity goes out and the garage code no longer works!
We typically request one of the following and have listed them in order of our preference:
A. Code-entry (such as a garage pad) with a single key (either on file with us OR in a lockbox you keep) available as backup in case of battery/electricity failure,
B. Access to a key lockbox that permanently stays on your property
OR C. Two working sets of keys,
Keys that clients have us retain are uniquely coded and kept secured between service periods through our At-the-Ready Key Program!
We encourage clients to acquire a mechanical (no battery) coded lockbox if they wish to hide a key on their property between visits, but clients are responsible for informing us if they move, remove, or change the lockbox.
An image of a rolling code lockbox is below. Depending on the lockbox you purchase, it can be temporarily attached to a door handle or permanently affixed somewhere, like a tree or side of the house. We encourage a permanent lockbox solution in case you need care in an emergency.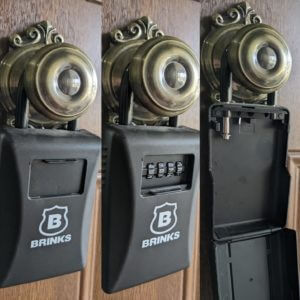 The vast majority of our clients use our At-the-Ready Key Program. Why?
Keypads/Code-Entry do not work in a power outage, battery failure, or sometimes fail. This is why we request a backup key. We love using codes, but it is important to have a backup option.
Hidden keys are generally easily found, can rust and ruin if wet, and are sometimes moved without letting the pet sitter know. This is why we encourage clients to use a lockbox like the one pictured above if they prefer this method!
Our happy clients know that they can rely on us during an emergency, last minute trip, or late night away from home.
In addition, we offer lockout services for existing pet care clients. While we cannot always guarantee immediate availability, many clients have called on us when they've locked themselves out and benefited from this service!
How does Blue Skies Pet Care store keys securely?
Keys are tagged with a number (eg "B114") and stored in a locked key cabinet between services periods. Information connecting that number to the client's personal information is kept within our password-protected online portal, not the key cabinet.
Keys can always be returned at client request.
Thank you for trusting Blue Skies Pet Care with your pets and homes as we love every furkid like our own.
Sincerely,
Ashley
(post updated: 02/21/2022)