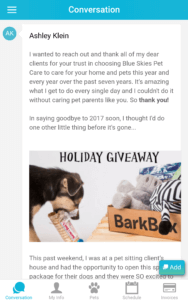 Two years ago, we introduced an online client portal so that our favorite pet owners can message their pet sitter (me – Ashley!), update pet information, update home and contact information, view and pay invoices online, request pet care, and more!
We have listened to our clients and worked with our software developer to bring you a pet care app! In addition to being able to login on their computer, tablet, and phone internet browser at any time, our friends can now use a convenient app to quickly manage their pet care anytime – anywhere!
Login to your portal to download the app.


Not a pet sitting client yet? Shoot me a message! I would love to meet you and your pets!