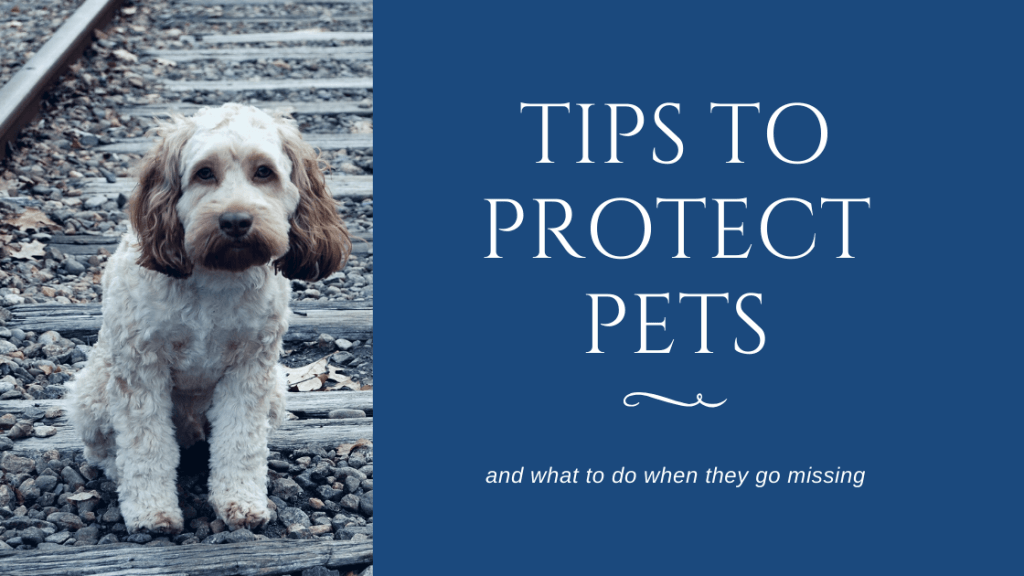 Yesterday was the day we celebrate love in all forms – including our pets! Did you know that it was also Pet Theft Awareness Day? In honor of a day created to forewarn pet lovers of potential cat-burglars and dog-nappers, I wanted to share some tips and resources for protecting your pets and what to do when they go missing.

Stay with Your Pet
Do not leave pets unattended outdoors.
I know it sounds obvious, but this is as true in your own yard as it is in public. Avoid leaving your pet on a leash outside your favorite coffee shop or loose in the a truckbed without someone keeping a watchful eye. Many of our pets are too curious or friendly to immediately raise alarm to protect themselves.
Microchips are Vital
Although most of us think our pets will never get away or be stolen, approximately 15% of pets get lost at least once in a five-year period (Weiss et al, 2012). Pets are about 33% more likely to be returned to their owner if they are chipped (Lord et al, 2009).

In the case of theft, it is also important to be able to prove ownership!
How do you get your pet microchipped? Veterinarians and shelters are almost always equipped with the ability to chip pets at a reasonable cost.

Your pet may even be chipped already if they came from a shelter or responsible breeder – have them scanned at your veterinarian and make sure their information is up-to-date through the chip company! Approximately 8% of owners of lost pets didn't update chip contact information when a phone number changed or was disconnected, making it impossible to reconnect pets with owners through chips (2009)!

Have more questions about microchips and how they work? Check out this useful FAQ from the American Veterinary Medical Association: https://www.avma.org/microchipping-animals-faq
Get the Word Out!
If your pet disappears and you suspect foul play, immediately report it as a theft to the police department.

Next, report the lost pet to your local shelter (in Newton's case, Caring Hands Humane Society). If an animal is brought in that matches your pet's description, they will contact you! Go in person or check the Found Pet photos on their website to be sure they haven't already come in. This is important in case your pet is on a personal soul-searching adventure OR if they escape their captor.

Finally, don't go it alone! Post information online and in your neighborhood. Distribute "lost pet" posters and post on social media, especially local community and regional lost pet Facebook groups. Not only does this raise awareness, but a local pet thief will not want to be caught with your pet.
Do: include an up-to-date photo of your pet, their name, approximate age, breed, color, any specific markings, sex, date lost, location they were last spotted, and your phone number.

Do not: use language like "stolen," avoid accusations, and instead emphasize any reward you can offer – make the person returning your pet seem like a hero.

After They're Found
Reunited and it feels so good!

After you've found your pet, be sure to update anyone you contacted for help. The shelter, police, online postings, et cetera. We are a community and we want to share your joy and call off the search. Don't forget to remove any physical posters you distributed.

Depending on how long your pet was gone, they could be injured or ill. Setting up a quick veterinary check-up will put your mind at ease and catch any problems.
Have any tips? Comment and share your experience and thoughts with us!
Citations:

Lord, L. K., Ingwersen, W., Gray, J. L., & Wintz, D. J. (2009). Characterization of animals with microchips entering animal shelters. Journal of the American Veterinary Medical Association, 235(2), 160–167. doi: 10.2460/javma.235.2.160

Weiss, E., Slater, M., & Lord, L. (2012). Frequency of Lost Dogs and Cats in the United States and the Methods Used to Locate Them. Animals, 2(2), 301–315. MDPI AG. Retrieved from http://dx.doi.org/10.3390/ani2020301