All of the subscription mail services available now are so cool! My favorite? BarkBox! You get a box of totally unique goodies FOR YOUR DOG with a value of $40!*
I was at a pet sitting client's house this weekend and had the opportunity to open that special package for their dogs and they were SO excited to get into the box – these dogs just knew it was something awesome in there! It made me smile every time I got their toys out. So we decided to do a giveaway for a Barkbox!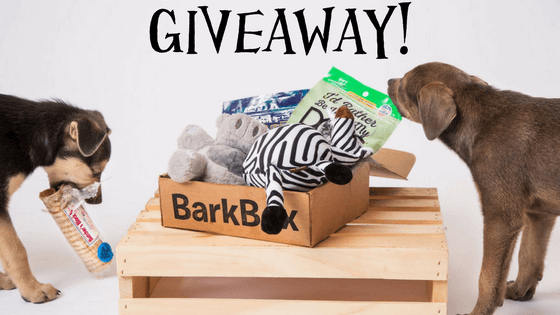 We couldn't say what's inside (it's a surprise!), but usually it's as many as six really high quality dog treats, toys, and/or chews. All edibles are made in USA, Canada, South America, Australia, or New Zealand.
Pro-Tip: Don't need a gift for your dog? Give it to someone you know that really, truly loves their dog! A gift for their dog is incredibly meaningful to your favorite dog lover!
There's even different sizes available for dogs of all sizes!

How to Enter
You can enter your name TWICE!
1st Entry) Comment below!
2nd Entry) Like and Share this post on Facebook:  https://www.facebook.com/BlueSkiesPetCare/posts/1819292478121683
You do not have to live in our pet sitting / dog walking service area, but you must be able to PICK UP in Newton, KS within 30 days if you win. Entries will be closed December 31, 2017 at 11:59pm CST. One random winner will be announced January 1, 2018! Thank you and good luck!
*According to BarkBox, each box contains items valued at $40 total.