I am so excited to announce that Blue Skies Pet Care has expanded its pet care services and is now accepting new overnight pet sitting clients. As a pet sitting business, we have worked hard to transform the idea of vacation pet care. Rather than dog boarding, families can know their pets are safe right at home. We have always offered pet sitting visits throughout the day, but are now also offering the option of a pet sitter in your home overnight.
Better than Dog Boarding? We're there all night!
Every day I receive calls from people looking to see what options they have for dog boarding or pet sitting. Usually I ask to hear about their dog.
After all, I can't decide what is best for your pet! Only you and your pet will know. Personally, I honestly think the experience of being home is very different from staying in a kennel or at a location for dog boarding. Most of my clients have pets that sleep with or near them, not in a kennel / cage overnight. Most also are allowed to roam the house and yard during the day or at least sleep in their own familiar kennel while they wait for their family to come home and play with them.
As with a day-time only pet sitting service, overnight pet sitting clients will receive all of the love and care they need on a daily basis. Have a special routine that your dog or cat follows? No problem! We are here for you.
It's not just sleeping over, it's a pet sitting slumber party!
From our initial overnight pet sitting clients, I have discovered each of our pets LOVE being tucked in.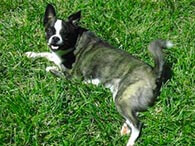 Two of my very first overnight pet sit doggies, Sasha and Rascal, are two absolute darlings. Rascal loves to play until he just can't take any more… run up the hall for the ball, run down the hall with the ball, run up the hall… I think my favorite thing about our slumber parties, though, comes right as everyone is getting ready for bed. Rascal is content and tucked in for the night, but here comes Sasha, tentatively nosing her head over the bed to see if it is OK to jump on up. Given the all clear, she hops up and noses her way under my sheets and down under the blankets to the foot of the bed. She usually curls up there and is content to sleep there for the rest of the night. Pictured: Rascal having a rest after some fun-and-tumble play!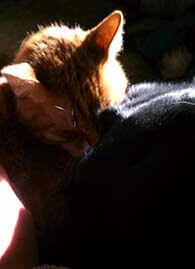 Bobby, a sweet black lab mix, and his four kitty siblings, also loves late-night cuddles. Bobby always curls at my feet on the couch and cuddles up to my side as we send off for the night. I think his kitty friends just like having the option, because I rarely have the same cat with me as each night draws to an end.
Sometimes Dozer is curled into my side with Buddha watching contently from the top of the couch. Other times they switch. Lily, the sweet little black cat, sometimes takes her turn, but if I'm really lucky, Binky leaves her roosting spot in the master bedroom to come see me and let me know she likes having someone there, too. Different kitties wake me, too, occasionally kneading my arm or side until I way. Once I woke to Dozer half an inch away, staring into my eyes. "Feeeeed meeeeee," he said. Of course the dry bowl was full, but he was ready for his wet food. "Peeeeet meee," he later meowed. Pictured: Bobby and Dozer cuddled together against their pet sitter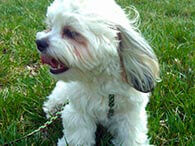 Not everyone is always, relaxed, though. One of our early overnight pet sitting clients came to us because their very young puppy was not settled and old enough for our regular day-visits alone to suffice. They felt they would be "punishing him" for their vacation by sending him for dog boarding, so they had no idea what to do! Snyder loved to sleep with his people and was normally in his dog kennel during the day. In the end, we came to a perfect arrangement, where he followed his daily routine to the "T" and was allowed free roam during the evening until bed time, where he came and stayed in the guest bed with me. Pictured: Snyder enjoying the fresh air
This new pet sitting service will enable us to offer our pet care services with better support for the different needs of all of our clients!