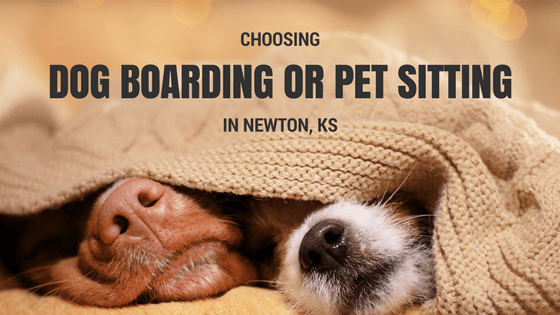 What is a pet sitter?
The usual definition of a pet sitter in the Pet Care Industry is someone who cares for a pet in its own home. This includes dog walking and vacation care, as pet parents look to pet sitters when they travel for business or pleasure, work extended hours, or even when they are having difficulty caring for their pets due to illness or injury. Pet sitters usually visit homes according to a schedule pet owners request that best fits their dog's needs by continuing their normal routine as much as possible in their family's absence.
Here's some advice on how to choose a pet sitter in this previous blog post: https://blueskiespetcare.com/how-to-choose-a-pet-sitter/
What is a kennel or dog boarding facility?
By contrast, a boarding or kennel facility lodges pets at the pet care provider's location. Depending on the scale of the facility, dog boarding can offer walks, grooming, activities such as indoor pools, and more. These may be a good fit if you are not comfortable with someone coming to your home in your absence, if you are in a position that requires you to have your pet out of your home for an extended period (eg. extensive home remodel and you are leaving town to escape the mess), or if you have a dog with severe separation anxiety or destructive tendencies. If you are uncomfortable with pet sitting because your pet has severe health issues, contact your veterinarian to see if they recommend medical boarding at their location.
Give your potential kennel a call…
Note their staffed hours. How long are dogs kenneled during the day and alone overnight? If someone lives on-site, when are they really with the dogs?
How many kennels/cages do they have? Get an idea of potential staff to dog ratio.
Does my dog need vaccinations? You want to ensure that your pet has necessary vaccinations to prevent being sick. Knowing if your dog kennel requires vaccines lets you know if they make your pet's health a priority. (Did you know? Some area veterinarians are now recommending canine flu vaccines for dogs that visit groomers or board!)
How large are the runs/cages? Most professional boarding facilities have professional suites, varying in sizes for the comfort of pets. On the other hand, some part-time kennels will crate dogs in wire crates in their home, garage, or even backyard shed.
Can I bring my dog's favorite toys? Your pet might be more comfortable with their own toys or bedding while away, but some boarding facilities may prohibit these items to prevent incidents (toy goes to wrong dog, other dog ingests fluff, uh oh!) or may have a release in case they are misplaced.
What services am I paying for? Many boarding facility rates, especially for runs with outdoor access via a doggy door, do not include on-on-one time with your dog. If it is included or you pay extra for human time for your dog, find out what amount of time you are being guaranteed.
When can I pick up and drop off my dog? Some kennels are only open during very specific times to prevent every dog in the facility from becoming anxious by comings and goings, or they are only by appointment. Make sure you can plan your travel around these time-frames.
Visit the kennel…
Once you have decided between a handful of dog boarding facilities, request tours.
Check that the area dogs are kept in is both clean and well-ventilated. Kennel cough, among other disease risks, are common to dogs in group settings, so surface and air cleanliness is key. Obvious messes or strong lingering odors are red flags.
Do staff seem interested? Talk to the staff about your pet's needs – behavioral, medical, and otherwise. If the staff are engaged and attentive, they will more likely follow-up on your requests and care for your dog.
Are staff engaged with other dogs there? Do you notice staff with other dogs? Pictures online are one thing, but do you see dogs enjoying their stay while you visit?
A huge reason to tour: confirming where your dog will be staying. Some facilities advertise large runs, in-home dog boarding, or only talk about their playtime in the yard, but have crates readily accessible. One of my clients came to me after an in-home boarding provider that advertised being cage-free opted to crate her Labrador for the duration of his stay without consulting the family. Ask them what happens with dogs when there is a problem and make sure you are comfortable with where your pet will be spending their time.
Do the animals at the facility when you visit all have food and water? Usually food and water will be in stainless steel bowls for hygiene.
Whether you decide to board your dog or leave them at home with a pet sitter, trust your gut instinct on what will work best for your dog's situation. Not all dogs work well with boarding and not all are able to stay home alone. With the variety of options available with an ever expanding market of pet care providers, you can almost definitely find something that works for your best friend and gives you peace of mind!